In just under 37 years, the Martin Group has grown 
from a two-franchise automobile dealership to 
national company employing over 450 professionals 
in the industries of automotive, motorsports, 
and flight transportation.
Our founder, Cornelius A. Martin, was a native of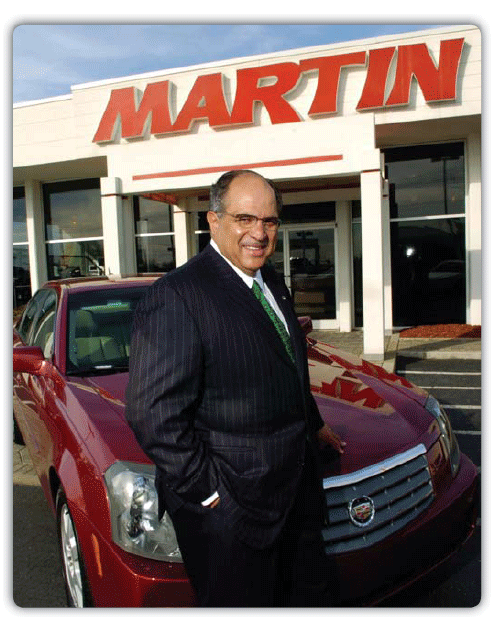 Greenville, Kentucky. Mr. Martin's childhood dream was 
to own a body shop. After graduating from high school 
and attending West Kentucky Industrial College, he 
moved to the Dayton, Ohio area and began working in the 
automobile business while continuing his education at 
Wright State University. Mr. Martin worked in every aspect 
of the automobile business from Lot Technician to 
General Manager. As his career in the business advanced, 
he enrolled and graduated from the General Motors 
Dealer Academy at the GM Institute in Flint, Michigan. 
In 1985, Mr. Martin had the opportunity to purchase an 
Oldsmobile-Cadillac dealership in Bowling Green, 
Kentucky and soon to follow a Dodge, Jeep, and Chrysler 
dealership was added. Mr. Martin formed the Martin 
Automotive Group in 1990 with the intention of 
expanding his reach in the automotive business. 
The Martin Group joined the family of Saturn retailers in 1991 with its opening of Saturn of Dayton. The Martin Group experienced tremendous growth with the Saturn franchise. The once core franchise for the Martin Group included six Saturn dealerships spanning from the east to west coast. In December 2003, the Martin Group welcomed one of its most anticipated and exciting business ventures to its family with the opening of Harley-Davidson Bowling Green. The dealership's sensational growth in its first year of operation led to a facility expansion and second location in Louisville, Kentucky.
After the 2008 financial crisis, the Martin Group's portfolio changed dramatically. Meticulous planning, strong relationships with OEM brand personnel, and introductions to new franchises would result in the additions of several key import brands to the Martin Group. This solidified the Martin Group's presence in all corners of the automotive business. 
The Company reached a milestone in 2010; not only had the Martin Group embarked on 25 years of business, the second generation would take on the challenge of leading the organization. Chad Martin, the eldest son of Mr. Martin serves as President. Gail Martin, Mr. Martin's widow, serves as CEO.
Since September 1985, the Martin Group has developed into one of the most successful and respected automobile retail organizations in the nation. Mr. Martin's goal of professional growth through customer and employee satisfaction, coupled with hard work, continues to draw national attention and respect.