Adrienne Seligman
Marketing Director

Adrienne joined the Martin Group in February 2014 as the Marketing Director. Adrienne is a graduate of the University of Alabama and spent several years in the media/television & retail/consumer packaged goods industries prior to joining Martin Group. She has over 10 years experience with Viacom Media Networks marketing its 28 cable networks and over 2 years at MAPCO Express, Inc managing its 370+ stores marketing/advertising campaigns. Adrienne has extensive background in multi-media marketing, advertising, communications, branding, interactive marketing, CRM, public relations, community relations and event/sponsorship planning.

Tadishi Morgan
Marketing Manager

Tadishi joined the Martin Management team in August 2016 as the Marketing Manager. A graduate of University of Florida, Tadishi has extensive knowledge in social brand management, promotions, advertising  and multi-media marketing. He has several years of experience with Mondelez international, Nabisco Division, where he worked with products such as Oreos, Chips Ahoy, and Ritz. In Addition, he has worked in marketing and advertising for a regional chain of quick lube locations in Florida and an organic fast food chain, in Washington D.C. Tadishi manages the marketing team and ensures all of Martin Management Group's marketing and advertising objectives are executed across various mediums.



          

Jon Luke 
Marketing Production Coordinator

Jon joined the Martin Group in March 2017 as a Marketing Production Coordinator. He is responsible for the creation and implementation of marketing materials for social media, websites, mail print ads, and digital marketing. Before martin Jon held a position as a Graphic Designer at Allstar photography and has done many freelance marketing and graphic design projects within the last 7 years. Some of his designs can be found locally and nationally. He is currently enrolled at Full Sail University and will graduate in the fall with a Bachelors in Science.






Amy Whittinghill
Corporate Recruiter

     

Amy joined the Martin group April of 2015, overseeing all job postings, applications, interviewing, background checks, hiring and onboarding. Prior to joining Martin Group, Amy worked in the rental car industry in recruiting, and gained an insider view into dealership operations as a service writer. Amy is a graduate of Union College with a Bachelor of Science degree in Business Administration and Marketing.

Tyler Porter
Human Resource and Legal Compliance Manager  

Tyler joined the Martin Group in September 2015 as the Human Resource and Legal Compliance Manager. He is responsible for developing and implementing all HR related programs, policies, and training. Tyler is a graduate of Western Kentucky University with a major in Economics and received his Juris Doctor from Salmon P. Chase College of Law.




Trisha Hughes
Executive Administrative Assistant

Trisha joined the Martin Group in May of 1997 as a controller for Martin Dodge Jeep Chrysler and, eventually, for the entire Autoplex. In May of 2013, she joined the management team as the Internal Auditor. In August 2016 she took the role of Executive Administrative Assistant coordinating many critical business functions. Trisha handles day-to-day administrative responsibilities as well as a wide range of additional projects including First Extended Service Contracts, accounts payable, and travel / event planning. Trisha has over 37 years of experience in the automotive industry.

Renee McGinnis
Corporate Accountant

Renee joined the Martin Group as controller at Martin Cadillac Kia in 2004. In April 2009, Renee transferred to the Martin Management Group headquarters with the designation of Corporate Accountant.  Renee has 28 years of experience in management and accounting.  Before Renee joined the Martin Group she held positions at Kirby Auto Auction where she was the Office Manager and PIC International Headquarters where she held a position as Logistics Administrator of the United States transportation division.

 

Jeff Slaybaugh
Business Development Director

Jeff Joined the Martin Group on November 2016 as the Business Development Director. Jeff has been in the Automotive Industry since 1979 and brings with him a tremendous amount of experience in the Automotive Business. Jeff has implemented and has been responsible for several successful Business Development Centers as well as Internet Sales Departments and Dealership groups, throughout the Nation to include Alaska, Ohio, Texas, Tennessee, and Florida.

Chad Cassetty
IT Support Coordinator

Chad joined the Martin Group in February 2015 as IT Support Coordinator. Chad is responsible for providing end-user technical support, monitoring critical infrastructure systems, and assisting with IT project deployments. He has served in the Information Technology field for over twenty years in roles ranging from Desktop Support to Network Administration and holds multiple certifications. Chad is an elementary school archery coach and an avid motorcyclist.





Kayla Branham
Accountant

Kayla joined the Martin Group in September 2016 as an accountant. She is responsible for tracking and reconciling marketing journals, general accounting at the corporate office, and assisting the Corporate Controller and Executive Administrative Assistant. Kayla graduated from Eastern Kentucky University with dual Bachelors of Business Administration degrees in Accounting and Finance, with an emphasis in Managerial Finance.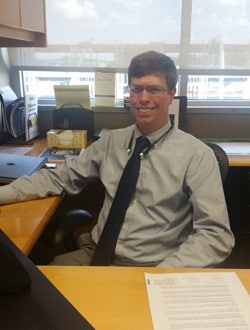 Patrick Block 
Director, Sales Training & Retention
Patrick Graduated from University of Tennessee with a degree in Marketing & Entrepreneurship. He has spent his career within the automotive field through the rental car industry (Hertz) and subscription based start up Flexdrive, a Cox Automotive company, giving him a unique insight into trends around the future of mobility. Patrick is currently responsible for developing our automotive sales teams through training and coaching. He is very active in the local community through charities and mentor-ships.